Fodder School
make collage fodder . . . use collage fodder . . . repeat!
We are SO excited to present to you an incredible, unique opportunity that we have put together for new and experienced mixed media artists everywhere.
At Fodder School you will have a new instructor each month for 12 months. You will have access to two new online courses each month:
In the first course, the teacher will demonstrate their favorite way(s) of creating unique and personal collage fodder. If you don't know this already, handmade collage fodder is THE SECRET to incredible mixed media art that is unmistakably YOURS.
In the second course, delivered two weeks after their fodder creation lessons, that month's teacher will present one complete project with a heavy focus on using fodder you have created in the Fodder School lessons.
Think incredible handmade books (including one to store your fodder!), ATCs (artist trading cards), tags, postcards, assemblages, planner pages, art journal spreads, and even fine art for your wall.
And, the next month, the cycle will repeat itself with a new teacher and a new fun project.
We've seen this ourselves with our own art: what starts to happen is the more handmade fodder you have at your fingertips, the more individual and unique the mixed media art is that you are able to create. Your colors, your marks, your hand, your eye, your taste. It's all built into your collage fodder. 
And the fodder that you've created in previous months' lessons? Well, that becomes a part of what you can build into the next months' projects as well. By the end of the year, you will be a world class mixed media artist!


Fodder School Instructors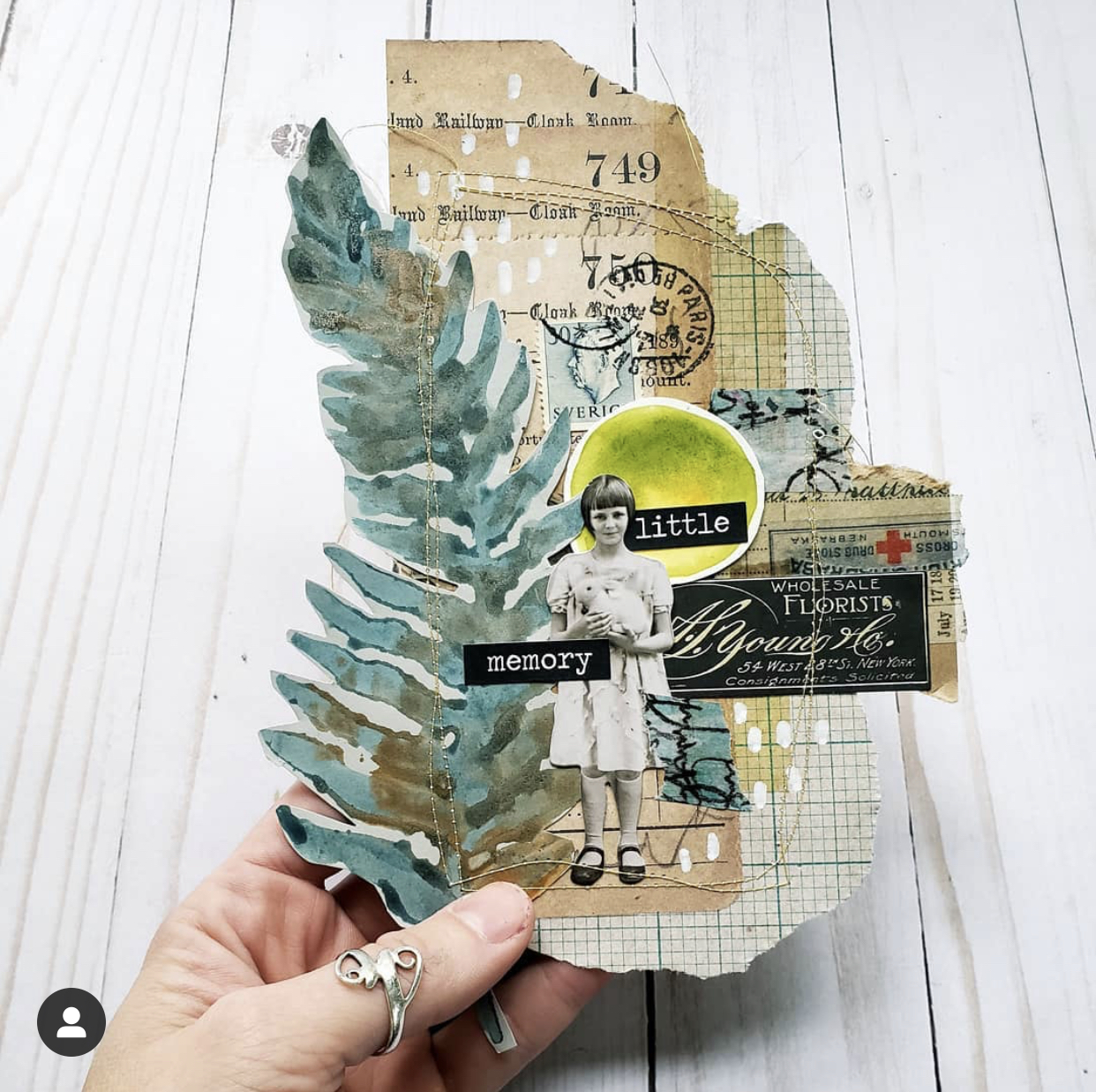 Megan Whisner-Quinlan
@megan_whisner_quinlan
Megan Whisner Quinlan is a mixed media collage artist and book maker. Using collage fodder is an essential part of her process in creating her mixed media compositions. Creating these components ahead of time allows her art to have a dynamic quality with less effort, and eliminates over thinking. Megan will walk you through creating several kinds of fodder and then show you how to assemble them as individual pieces. Your finished projects can stand alone or await use in your art journal spreads.
Sarah Gardner
@juicy.s.art
Sarah has long been an ardent sharer of small works of art - whether as postcards or, more recently, ATCs. Artist Trading Cards may be small, but they are fierce! Sarah knows you can fit a lot of layers on any size substrate; and one of the things she loves to do is add details to her art. With ATCs those details are smaller, but no less plentiful than in her full-size art journal spreads. Sarah will show us how to create Micro Fodder to use in making beautiful, layered ATCs. Then she will help us create a full set of ATCs with abundant detail to share with one another or the world!
Tracey Wozniak
@more.than.marmalade @marmalade.mondays
Did you know that giving someone encouragement means to infuse them with courage? In Tracey's class, Every Little Thing, we will be creating Textural Abstracts using every little thing that brings you joy. Those abstracts will then be broken down and integrated into a variety of customized projects using inspirational quotes and words of affirmation as the powerful focal point. These are perfect for personal reminders or giving away… infusing someone with courage.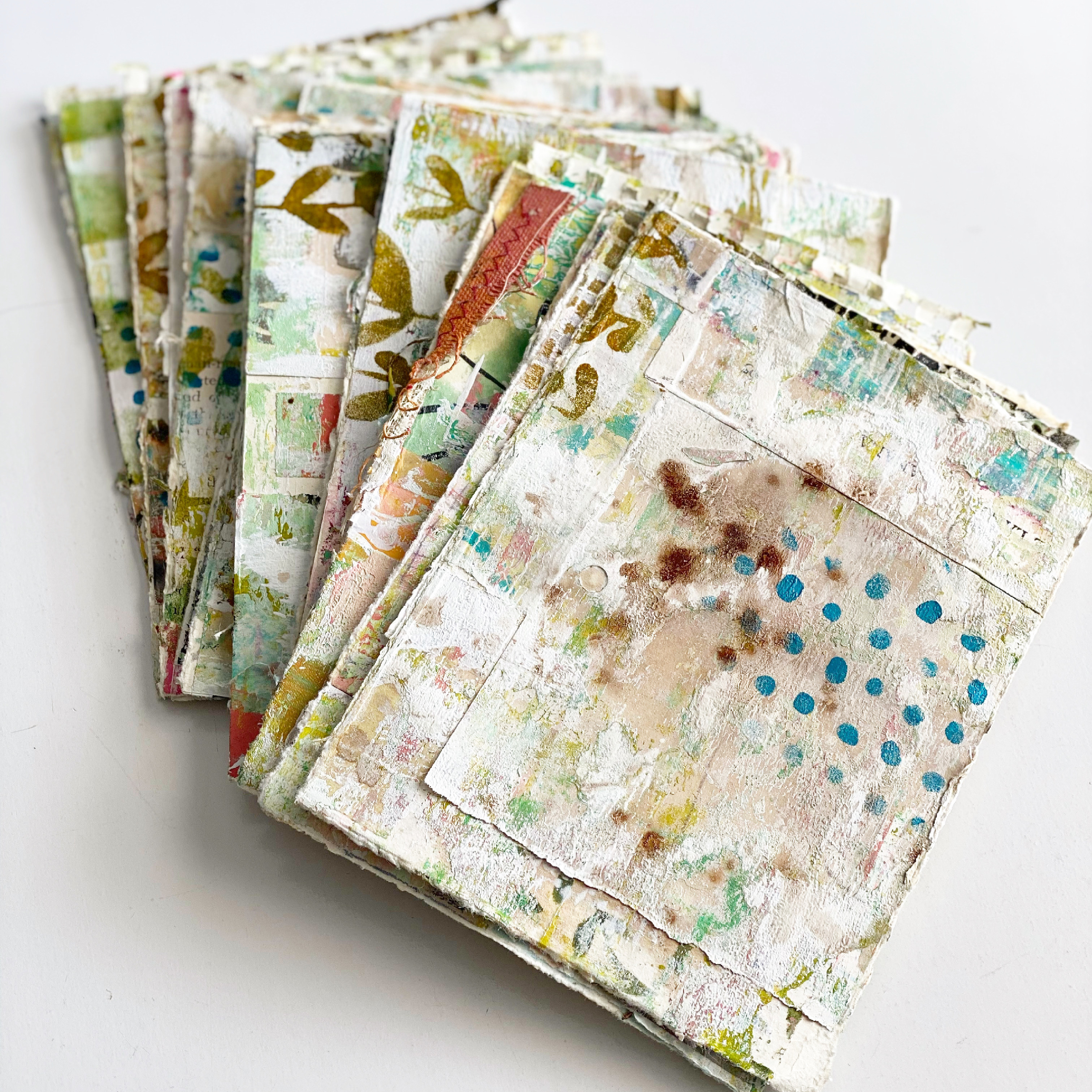 Wendy Solganik
@willa.wanders
Wendy adores all handmade collage fodder, and one thing she has experimented with a lot is using dye with paper. Whether that dye a natural eco dye that you create in a pot on your stove, coffee or tea, liquid watercolor, or even synthetic dye, it's all useful when creating collage fodder. In her project lesson, Wendy will demonstrate how she created a very personal and beautiful artisan book from start to finish. We will even jumpstart your way to filling the pages with content that is helpful and meaningful to you.
Tiffany Sharpe
@tiffanysimplysharpe
Tiffany loves playing with watercolor techniques and watching the colors swirl together to create unpredictable results. Her loose and stress free lessons on watercolor leaf and floral collage fodder pairs well with the extreme organization that is Tiffany's Fodder Keeper project, a place to store all of the beautiful handmade fodder that you create!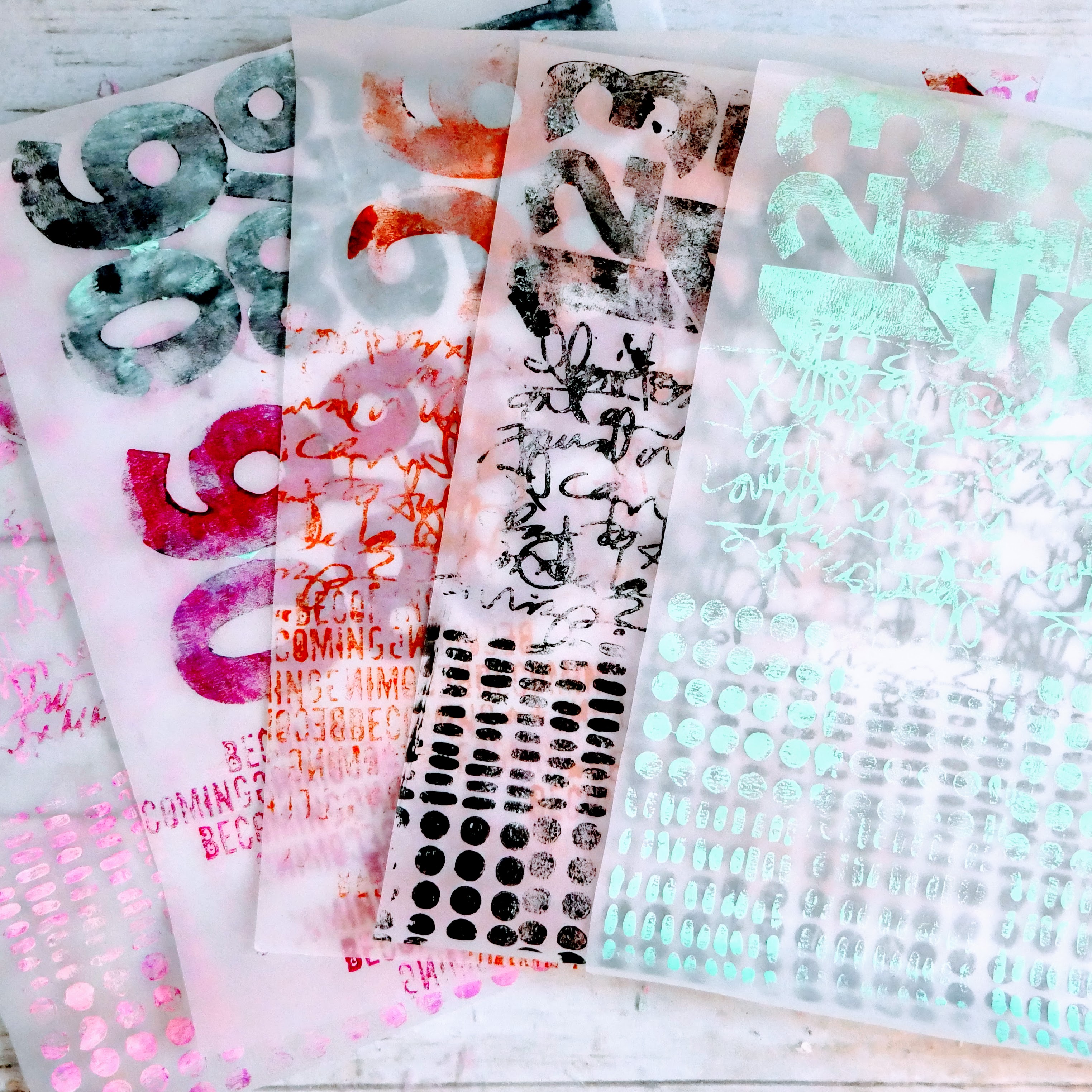 Laura Dame
@lauramixedmedia
Who doesn't love a good junk journal? In her classes, Laura will teach you how to make a variety of collage fodder and then take all of the fodder you've created and build a junk journal. She'll then take you through the process of decorating your journal and making it your own.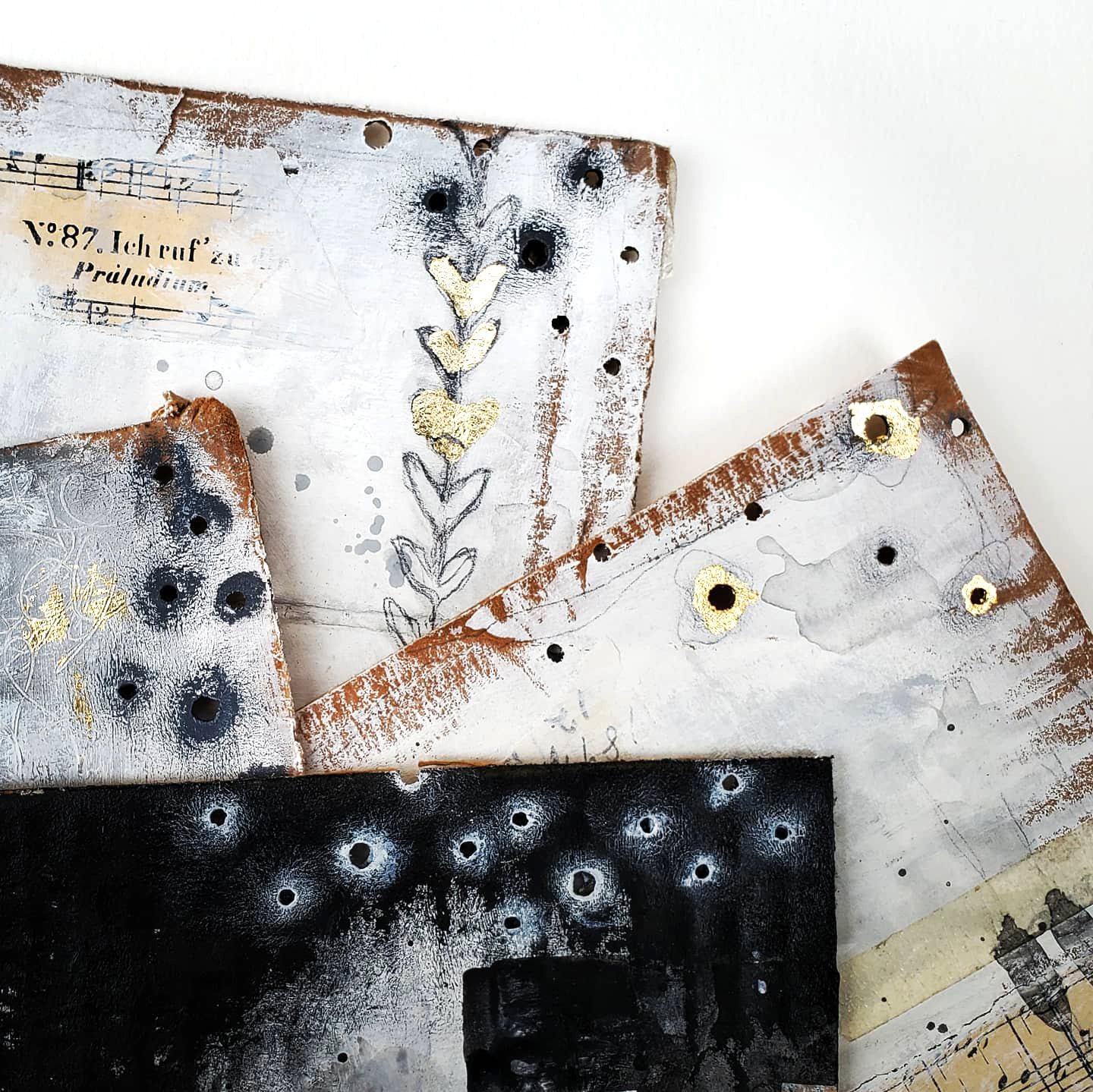 DeeDee Catron
@deedeecatron @umwowstudio
DeeDee will bring together her signature style of carved big bold marks with some glitz & glam in a diorama pamphlet featuring gold foiled fodder. Think fun, think autumn, think natural & neutral.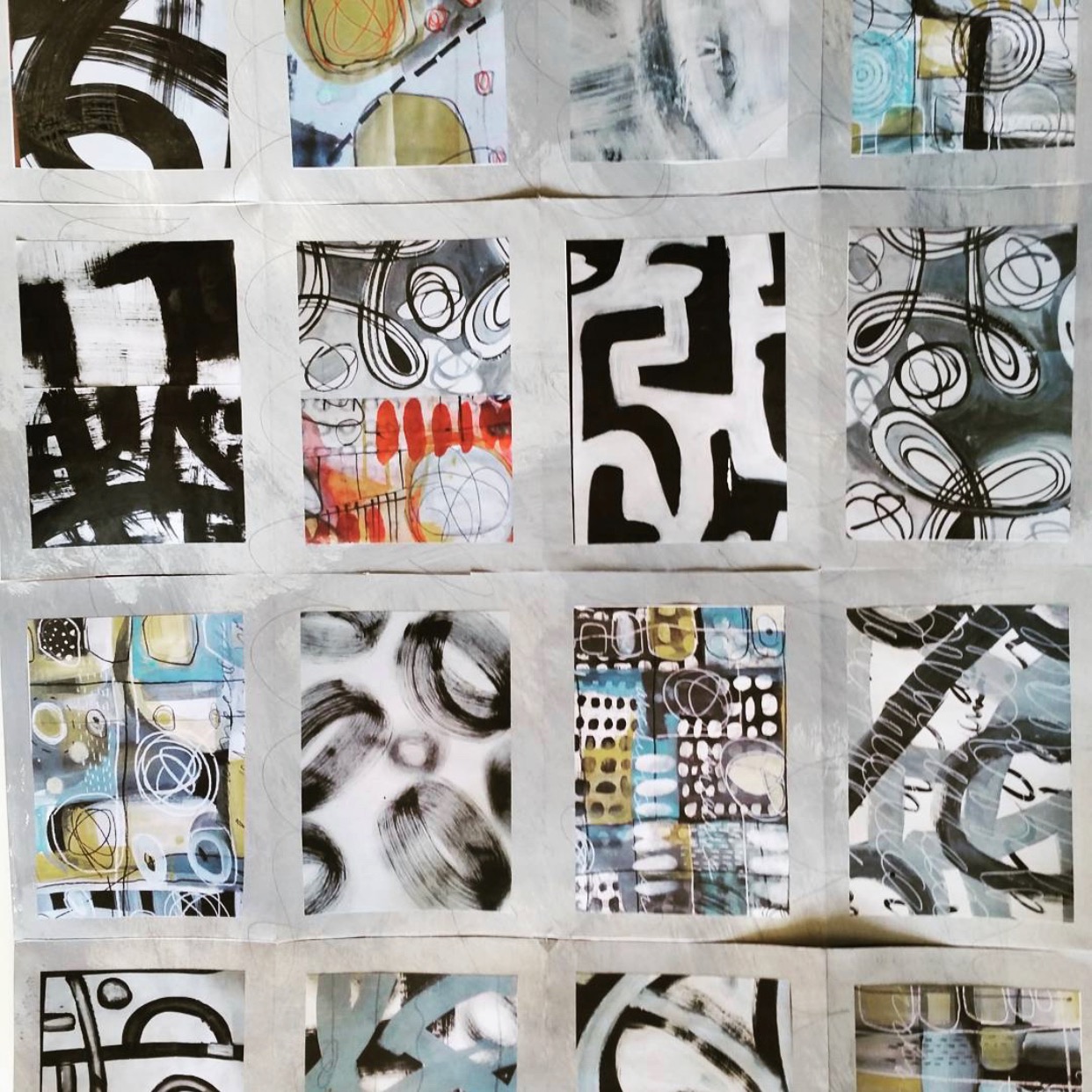 Roxanne Padgett
@roxpadgett
Roxanne is a visual teaching artist with more than 30 years of experience with a large variety of techniques and materials. Her current obsession is with mixed media painted papers, collage fodder and book-making. In her Fodder School Workshop, 13 Dresses, certain colors, shapes and patterns evoke strong memories that provide mental "fodder" for creative projects, including a uniquely shaped accordian book that she will demonstrate.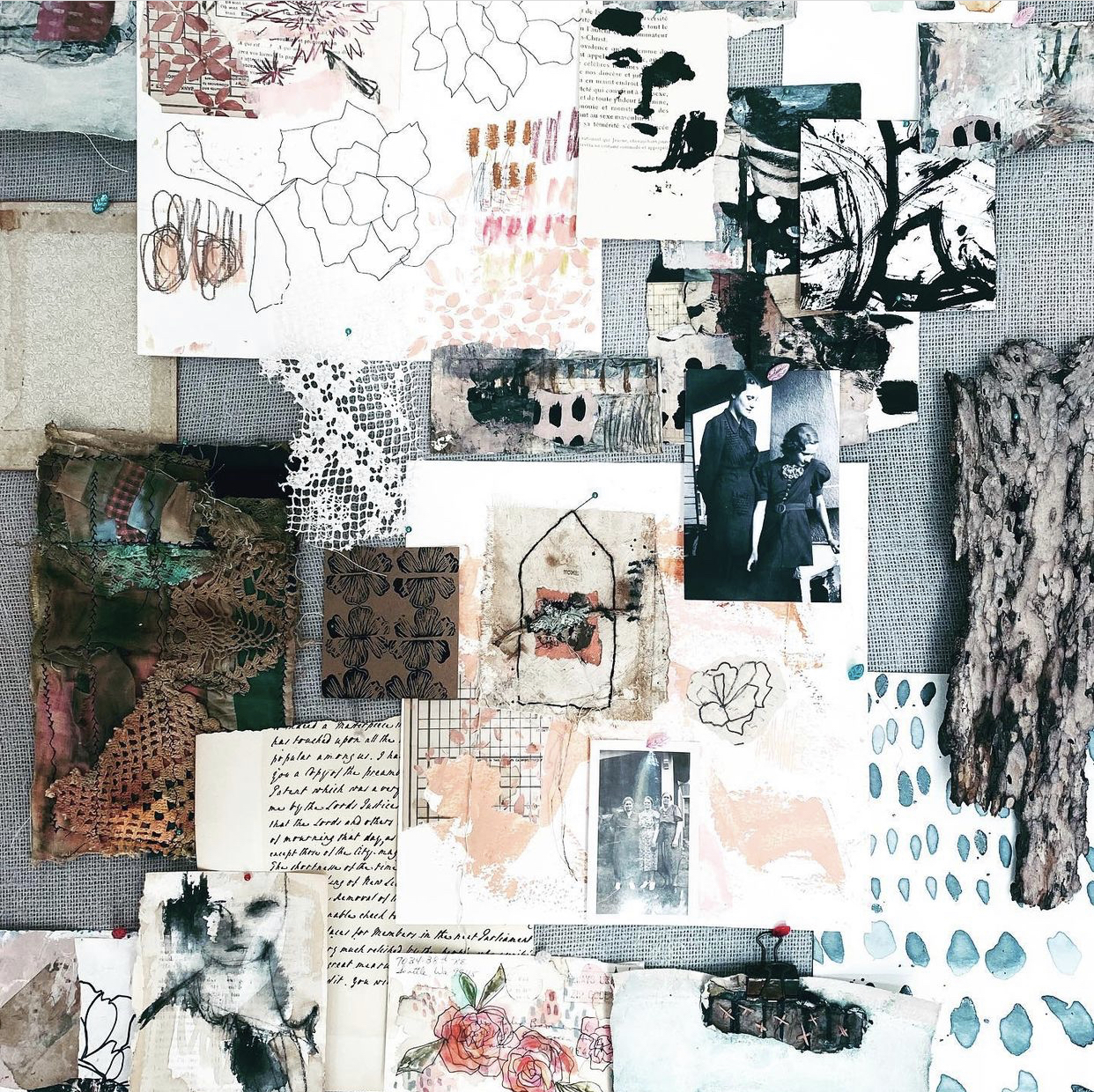 Building a library of special pieces to use in her art is one of Aimee's favorite practices. She'll guide you through her process of tapping into instinct, fearlessness and freedom by showing you ways to express your true artistic voice. We will build our library of unique marks and then reinvent these pieces into art that is wholeheartedly you!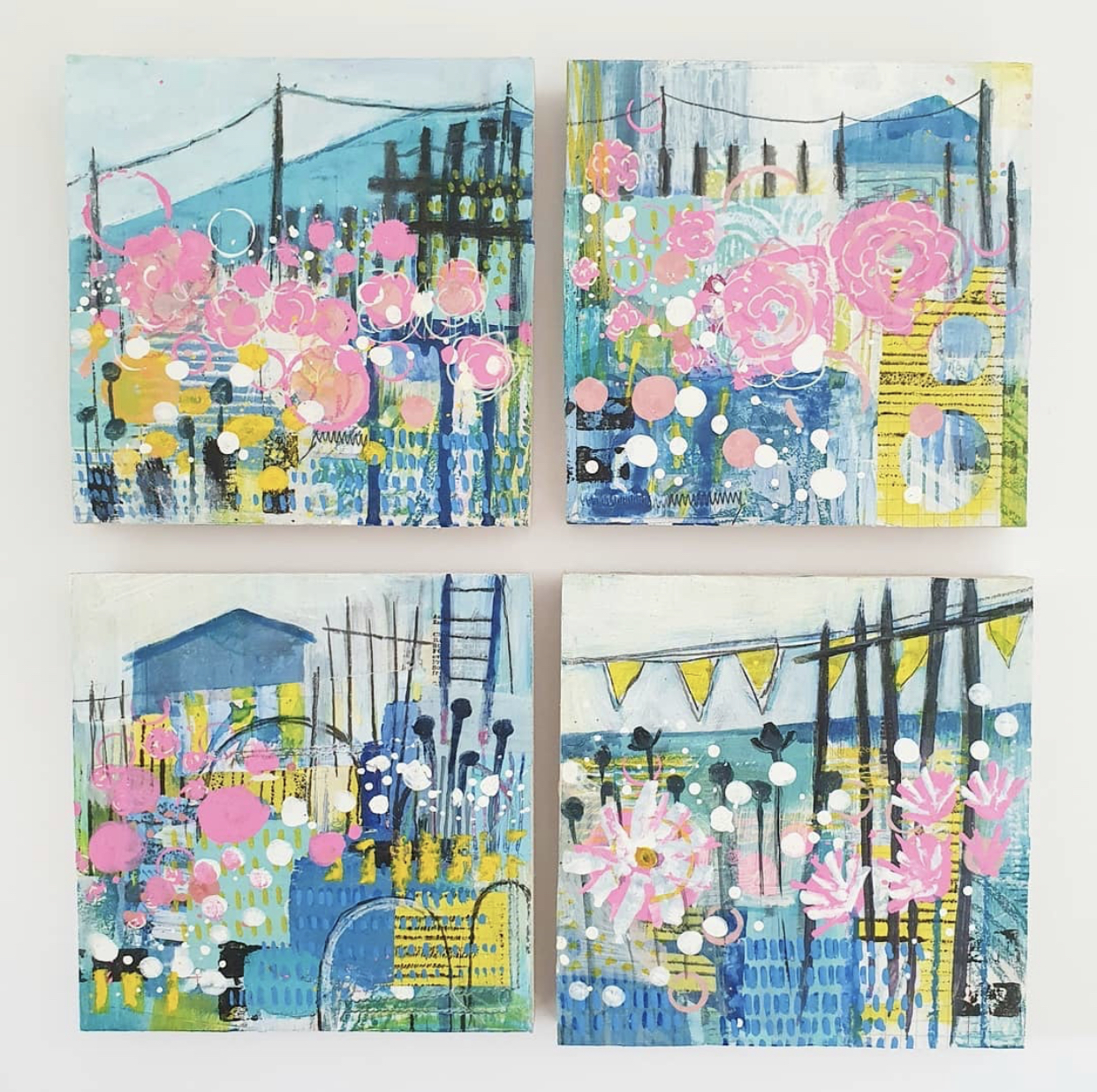 Rebecca Chapman
@rebeccachapmanart
Always inspired by nature, Rebecca will share how she creates colourful 'foundation' fodder for her joyful artwork. You'll create your very own layered art piece ready to display or gift to someone special.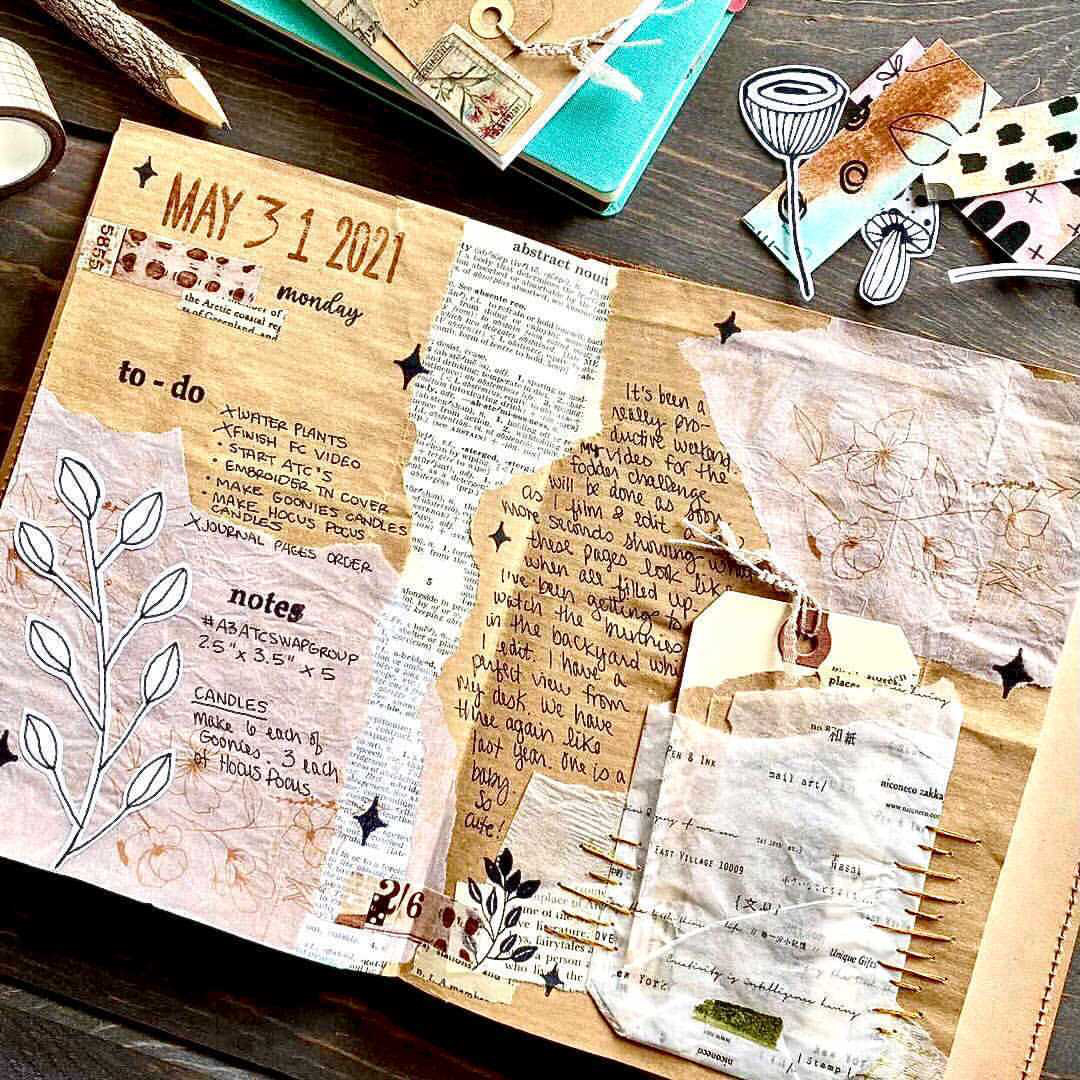 Kelly Anderson
@kellyandersonstudio
You will rarely find Kelly without a notebook or planner at hand for capturing thoughts on the fly, keeping her life organized, and jotting down the day's happenings. To keep her constant craving for creativity satiated, she's combined her love of daily bullet journaling and list making with doodles, paints, and handmade collage fodder. Join her in her Traveler's Notebook where she will show you how to Fodder Your Day through clever tuck-points and tip-ins mixed with unique ways to date your pages and title your lists.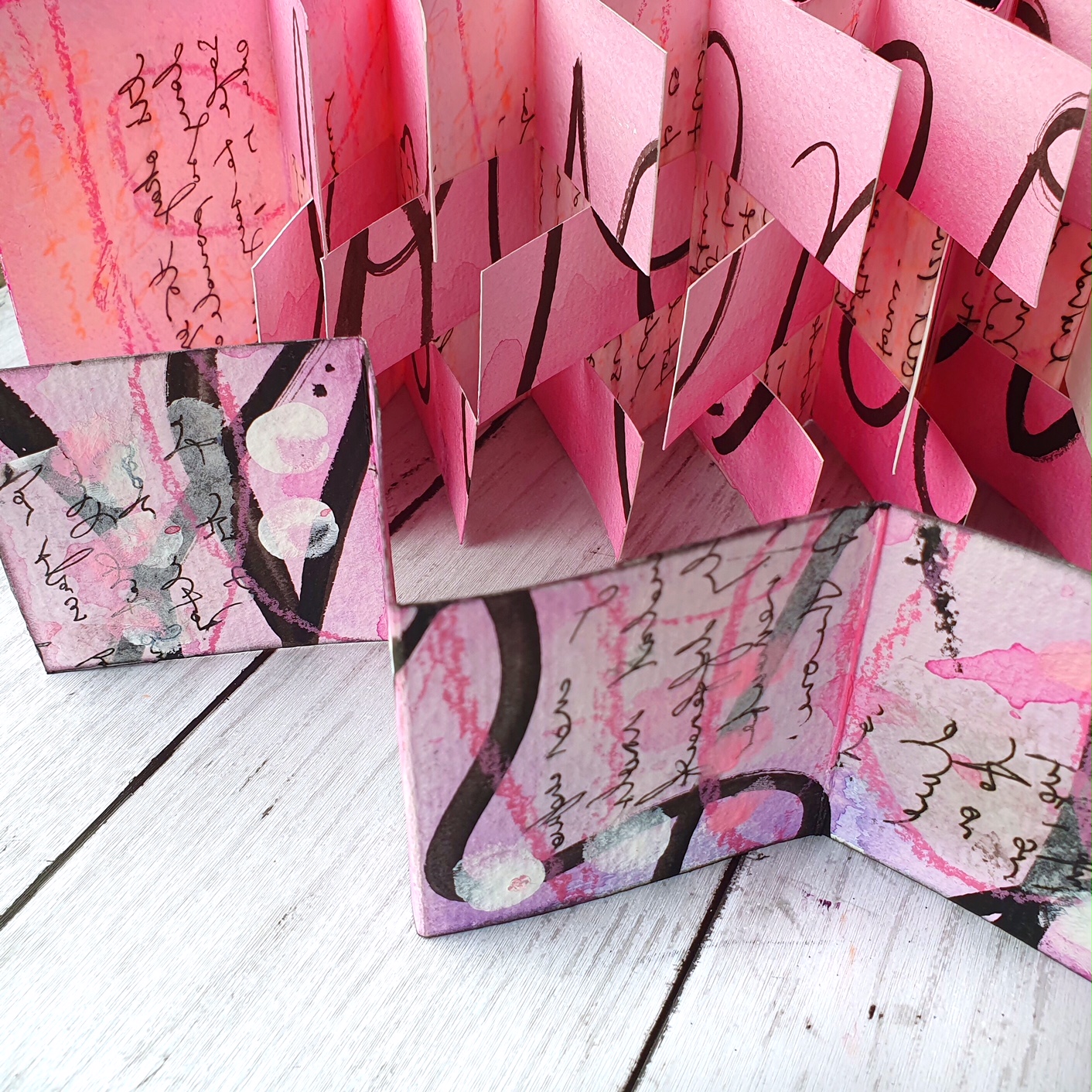 Autumn Moon
@autumn_moon_art
Autumn is an Arting Enabler! - believing that everyone can do this! She loves inspiring and empowering others. In this class you will learn techniques that will have you feeling confident about adding writing to your journals. Forget 'penmanship', this is about writing as art! You will finish by creating a no-sew book that will be wholly personal, meaningful and beautiful.
The classroom opened on October 1, 2021.
We've opened registration again for the many artists that are first hearing about this experience and totally missed out on the prior registration periods. The cost of Fodder School is $207.00 USD + tax, an incredible price of less than $18.00 per month for an amazing new course each month. Compare that to the individual cost of taking online mixed media art classes a la carte and you know what an absolutely incredible value Fodder School really is.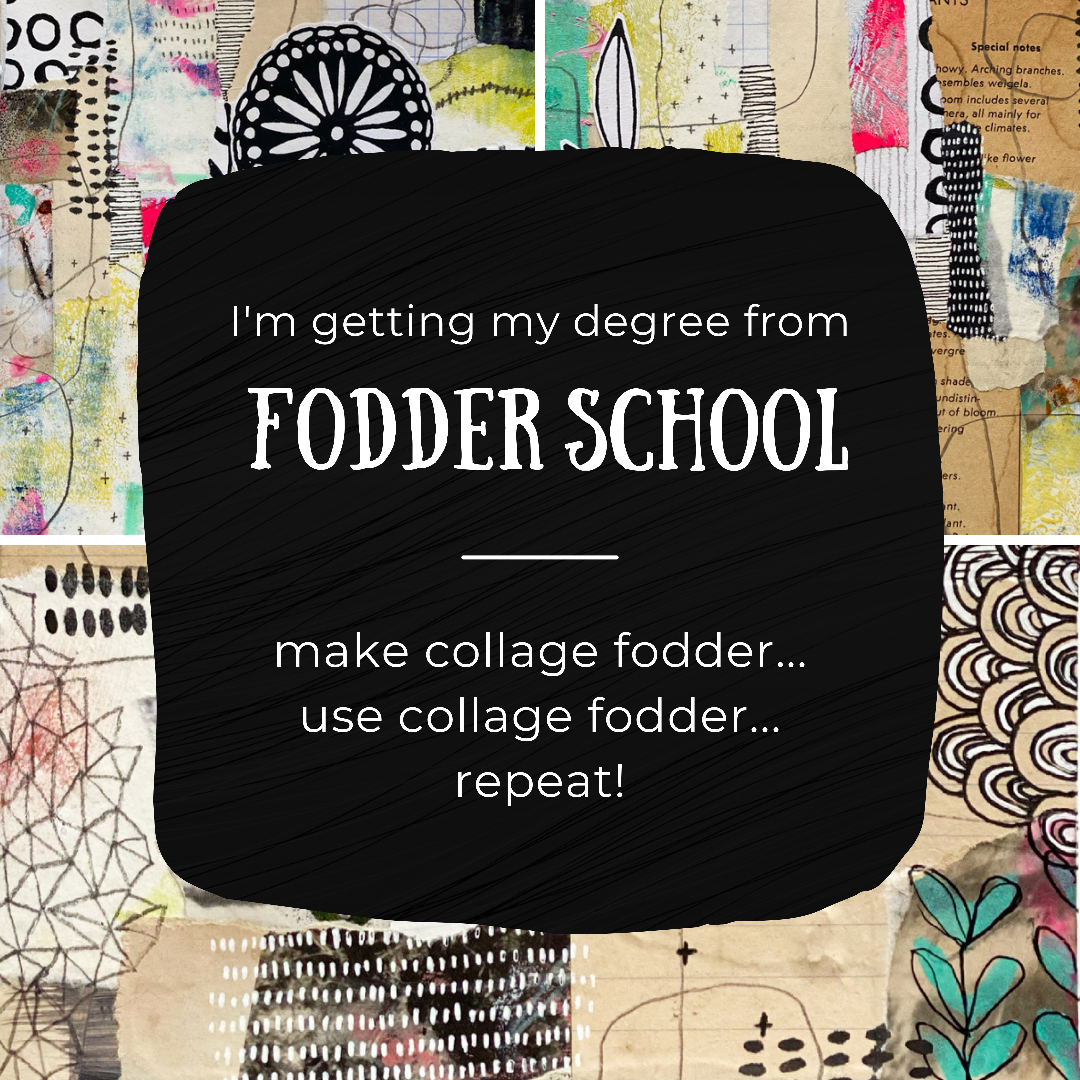 Lifetime Access
The lessons in Fodder School have "lifetime access," which means the lifetime of the course. They are not downloadable but will be available in Willa Workshops on Teachable (http://willa-workshops.teachable.com) for many years.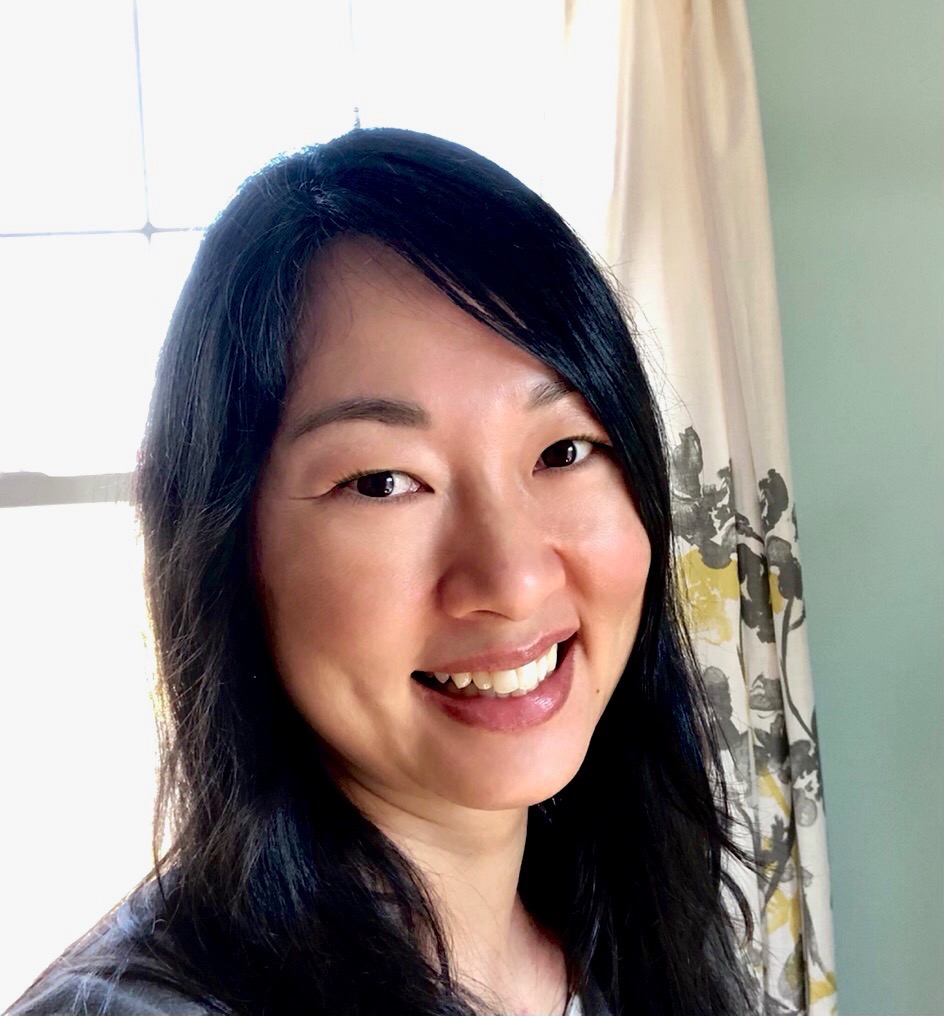 TIffany Sharpe
@tiffanysimplysharpe
Tiffany Sharpe enjoys making books and sharing her love of art with others. She learned the joy of crafting at an early age, and continued to quilt and knit as she taught high school chemistry and middle school science. It was not until later in life that Tiffany discovered her love of watercolor and mixed media. Like many others, she found that making and working in art journals was a therapeutic way to express her creativity during the pandemic.
Tiffany was born in South Korea and raised in Colorado. She now lives in Minnesota with her husband and two children. They enjoy spending time on nature walks and simple family dinners together.
Wendy Solganik
@willa.wanders
Wendy Solganik, aka "Willa" on Instagram, is a life long artist and crafter, currently working in book arts, mixed media and watercolor. From production wheel pottery to scrapbooking to knitting and so many more passions, Wendy always dives deep to master a craft.
After a fifteen year stint as the co-owner of Luscious Verde, a successful, Louie award-winning, custom invitation design, printing and manufacturing company, you can find Wendy at home in her studio, crafting handmade, colorful, and highly custom art journals for clients while caring for her large extended family.
Wendy's work has been featured in Uppercase Magazine and you can listen to her interview other artists and bookmakers on her podcast, Show Up or Shut Up with Wendy Solganik. You just never know where she will wander to next!